Know How Fall Makes Your Immune System Frail?
As we move from the tepid temperatures of spring to the chillier winds of fall, Ayurveda suggests nurturing your body with warm herbal teas, bitter-sweet-astringent foods, lighter meals, and less rigorous exercises. Besides adopting a few nourishing habits, seasonal transitions have long been known to trigger certain health imbalances from increased body heat, lesser energy, an overwhelmed mind, and a frantic immune system.

Athreya's DIY Fall Detox comprises 9 handpicked herbal products that are devised to heal, repair, and rejuvenate your health in 3 healing phases.


Phase 1 - Week 1:
Starting with an in-depth internal and external detox, the first phase involves three toxin-clearing products.
Heaped with the goodness of dandelion greens, moringa, turmeric, chlorella, spirulina, and more, this churna gives your liver, eyes, immunity, gut, and blood a deep cleanse.
Balance your doshas and tame your upper, middle, and lower GI tracts with the purging powers of Triphala.
Heal, clear, and give your skin that glows from within using the skin-soothing botanicals of neem, Amalaki, and Guggulu.


Phase 2 - Week 2
The focus of the second phase will be to augment your metabolism so your immunity and gut roll with the punches while providing you with a steady supply of energy.
This pre-digestive pill amps up your gut and liver functions with Andrographis, bhunimba, and licorice.
Made with coriander, cardamon, cumin, fennel, and more, this churna helps your gut churn out its best assimilation abilities from kindling a steady digestive fire or 'Agni' and placating the flow of doshas for optimal digestive performance.
This post-digestive capsule helps nourish your microbiome and upgrades metabolic function with the help of Musta and vidanga.
Striking gold in terms of metabolic revival, turmeric's renowned golden goodness keeps your energy, nourishment, and protection on point.
Vaidya Jay's Diet Tip:
During this phase consume light and wholesome foods such as millets, boiled vegetables, stews, and casseroles while avoiding spicy or oily food and red meat, so Athreya's herbs can refurbish your body without any added pressure.

Phase 3 - Week 3:
The third phase ties a bow on your fall health enhancement with complete rejuvenation.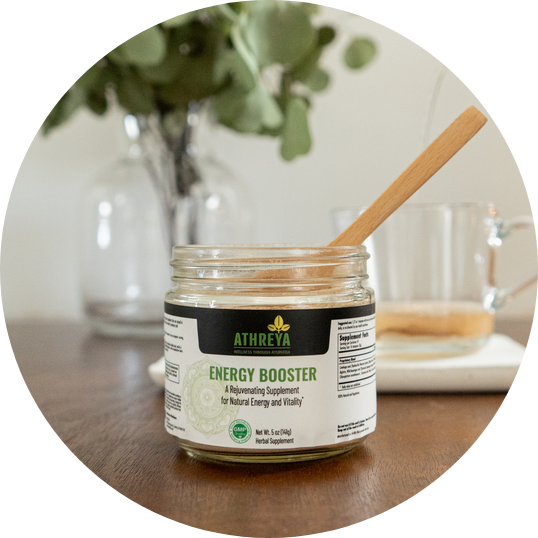 Fight fatigue, raise your energy levels, and keep the cogs in your cognitive health running with the natural wonders of kapikacchu (or mucuna), Shatavari, and white musli root.
Recondition your body's counterproductive coping mechanisms using ashwagandha's adaptogenic properties. Its finishing touches involve energizing your cells, insulating your immunity, and cranking up your overall physical and mental well-being from digestion, stress management, and sleep to hormonal function.